Quality Shipping Containers for Sale Across the UK.
Looking for containers for sale? CFS is the UK's leading provider for both new and used shipping containers. Our selection spans from compact 8ft options to expansive 45ft storage containers, including specialised types like high cube and open side containers, with a large stock of the popular 20ft and 40ft shipping containers. Our expertise extends to container conversions, offering tailored solutions for your unique projects.
New Shipping Containers
We import over 14,000 new (once used) containers into the UK every year. We can supply a wide variety of length sizes from all our locations in the UK. Small containers like the 8ft or 10ft, the standard 20ft shipping container or the high capacity 40ft cargo containers. We also offer a range of special types like the High Cube, Double Door or Tunnel Containers and Open Side shipping containers. Discover our size and types following the link below.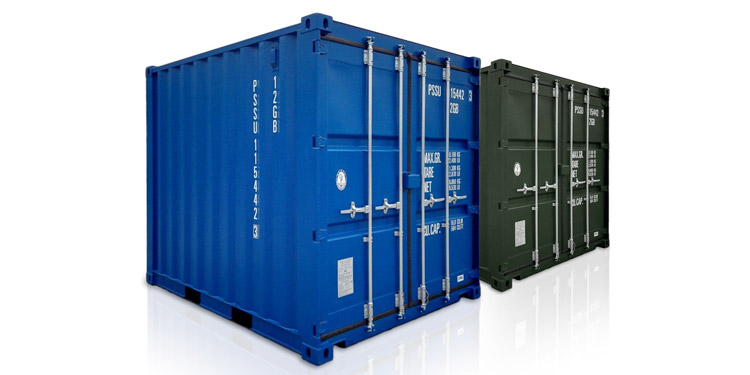 We sell a wide variety of 8ft and 10ft containers for constructions sites, temporary architecture, domestic use and more. Our small shipping containers are available as mini sets or as individual units. Available in blue or green they are all wind and water tight and include a lock box.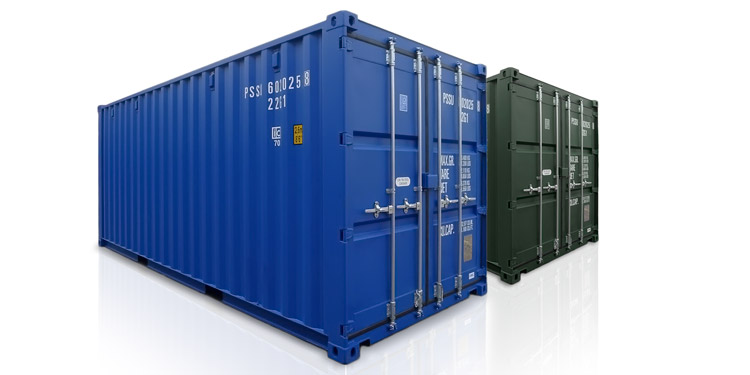 These are our most popular container size and come CSC plated as standard, making them the perfect choice for various types of transportation. They are also widely used for domestic and general storage and include a lock box. All our new 20ft containers come in blue or green and are wind and water tight.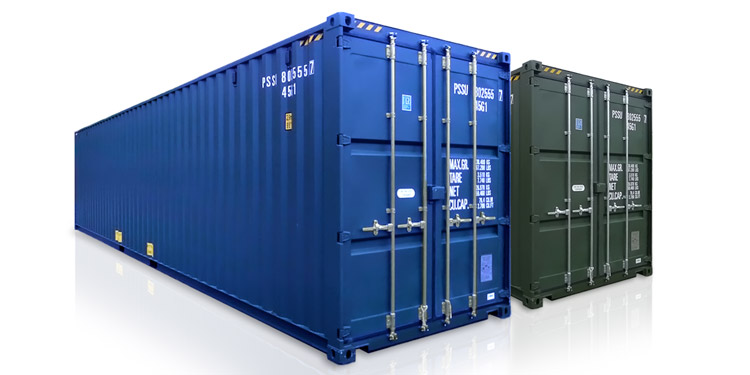 Our 40ft and 45ft are the largest containers that we offer and the perfect option if you need a lot of space to store your products safely.  They are manufactured and painted to the highest standards in blue or green and come with a  lock box and CSC plated as standard. 
Converted Shipping Containers
We offer completely in-house bespoke solutions for your business. If you have an idea for a container conversion get in touch and we will make your dream a reality. The structural strength and integral free-standing properties of the commercial shipping container, coupled with their relative ease and economic purchase, has led them to be used for a hugely wide variety of bespoke container transformations from laboratories, workshops, school classrooms and more!
Used shipping containers
Our Groups Connections over the years with many shipping lines, coupled with our purchasing power enables us to buy large batches of used containers in a variety of regions in the UK enabling us to offer at very competitive prices into the sales market. Second-hand containers are usually 10+ years old, come in their original colour and fully wind and watertight. 
Reefer containers
20ft-40ft Refrigerated Containers New or Used available from our Group of 4 national partners, we also supply bespoke Chiller Containers for food or Temperature Controlled commercial products, converted from basic Ex Shipping Line units..
Welcome to Containers For Sale
We are the UK's leading provider of new shipping containers and used containers. With 9 sites distributed around the country and many years of experience we can supply your container anywhere in the UK!
Our range of new containers (once used) include: 
20ft Shipping Containers, all sold wind and watertight, CSC Plated and available in the following types: Standard or General Purpose Container, High Cube, Side Opening, Tunnel or Double Door Shipping Container and Open Top. All with multiple air vents, lockbox and offered in either green or blue.
40ft New Containers, issued with a CSC plate, wind and watertight, 10 vents, lockbox included and painted in either blue or green. These cargo containers are also available in multiple special types: Standard, High Cube Containers, Side Opening Shipping Containers, Double Door Ended or Open Tops.
Small Shipping Containers, when you have less space available, our 8ft or 10ft containers are the ideal solutions. The have all of the same features as their bigger counterparts and are also available in blue or green and a lockbox. Ideal for domestic or commercial use. 
We also stock a large amount of used ex shipping line containers in a range of sizes and types. They all come with their original colour and no lockbox as standard but other bespoke colours and lockbox can be fitted upon request. Our used shipping containers are thoroughly inspected and come wind and watertight. We offered them in different grade conditions so please contact us for more information, if you wish to, you can visit your closest depot to inspect them. 
Our in-house team of engineers also offers a best in class container conversions service direct from our local workshops throughout the country. We offer off the shelf standard solutions as well as fully bespoke designs. Some of the most usual container transformations that we offer include Toilet Cabins, Office Conversions, Locker Rooms, Container Sheds, Container Cafes, Containerised Bars, Shipping Container Homes and more!  Converted Shipping Containers are great a way of being creative, the sky is the limit, contact us today with your idea and we will make it a reality.
Get in touch today to get a quote or if you have any questions about shipping containers our experienced sales team is here to help you find the right solution for your business.
Do you want more information, prices or to place an order with us?
Contact us for a container quote!